Come and discover the Toulfoën sports and orientation in Quimperlé
It is in the Carnoët National Forest in Brittany that the Quimperlé region has set up 12 sports orientation courses.
Orienteering takes place by running or walking in the countryside. It is necessary to navigate with the help of a detailed map, and possibly a compass. The principle is to go through a certain number of tags to validate your route, beacons materialized by numbered wooden bollards on which markers validate your passage.

Travel through the forest in adventurous mode
The courses set up in the Carnoët National Forest are set for all levels, from beginner to expert. For a family outing, or for a sports session, you will find what suits you best among the 4 levels of practice:
Beginner (green): ideal for families and those who wish to discover orienteering as the markers are on the side of the road;
Initiated (blue): for people who already know the orientation techniques;
Confirmed (yellow): the beacons are difficult to discover, a map reading experience is required;
Expert (orange): reserved for the experienced that know how to follow an azimuth or a contour line as the courses delve into the forest.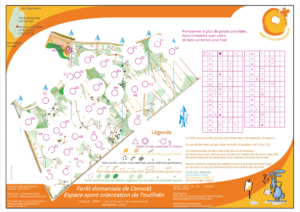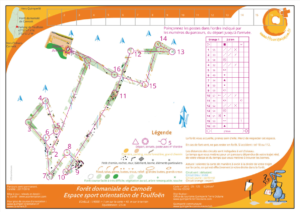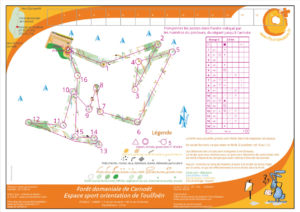 Practical advice
Plan to wear appropriate clothing: sports or hiking shoes, long pants and sleeves (to avoid insect bites) and take along rain wear, depending on the weather forecast you will have consulted.
Finally, remember to bring water and a snack to avoid getting tired.
Maps of the routes in the Toulfoën sports orientation spots are available at the reception desk of your Novalis hotel in Quimperlé, or at the Quimperlé Terre Océane Tourist Office.
You are ready to discover the Carnoët National Forest in a most fun and original way!
Office de Tourisme Quimperlé Terre Océane – 3 place Charles de Gaulle – 29 300 Quimperlé – 02 98 39 67 28